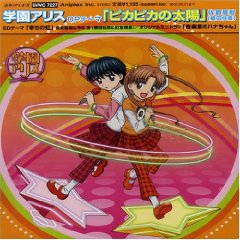 1. PikaPika no Taiyo
2. Shiwase no Niji
3. Originial Mini-Drama [音楽室no Hana-chan]
4. PikaPika no Taiyo (Karaoke)
5. Shiwase no Niji (Karaoke)
Download Gakuen Alice op/ed single
Ripped by Me <3.
My Pathetic, just-for-fun, Attempt to Translate the Mini-Drama [Track 3]:
Mikan: [Uhh idk....what shes saying..]
Misaki: Hey, Mikan-chan. Where are you going?
Mikan: School. [Idk what else shes saying]
Misaki: Ahaha. Be Careful.
Is it just me, or does Mikan sound like Kero [or maybe Sakura] from Cardcaptor Sakura in the Mini-Drama...?