Ah, the Gakuen Alice video games. Theres 3 of them [GBA, PS2, DS] and alot of people have trouble finding places to buy/download them, but being a Super Otaku Collector, (a word I made up that describes someone who is an anime/manga Otaku who devotes their time [and money] collecting all the stuff for their favorite manga/anime like CDs, games, books, etc. They will do whatever it takes and stop at nothing to get even the rarest items.) I was able to find some sites..Let's start with the first game, the GBA..
Gakuen Alice ~DokiDoki Fushigi Taiken~ [GBA]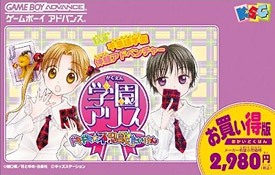 Download ROM
Download the ROM (link 1)
Download the ROM (link 2)
Buy The Game
I
bought the game from
JGamers
but it is now Out of Stock.. If you know somebody who lives in Japan you could buy it from
amazon.co.jp
.
Gakuen Alice ~KiraKira Memory Kiss~ [PS2]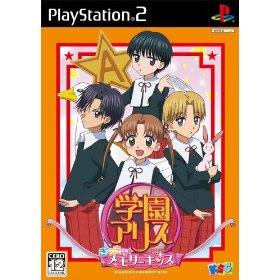 Known to Otaku Collectors as the rarest game in the whole world, there isnt even a ROM for this game. Luckily for you, after 3 HOURS of SEARCHING I found a couple of sites to buy it from, but unluckily for me, PayPal wont accept MasterCards anymore..
[edit]: Lol I bought this off of ebay for $6. I've played through it 3 times and keep getting the bad ending orz.
Buy The Game
Games Asia
Himeya Shop
Gakuen Alice ~WakuWaku Happy Friends~ [Nintendo DS]
Download ROM
nds-roms
Buy the Game
Play Asia
Himeya Shop
JGamers