I'm going to use my small translating skills and translate some of the game to make it easier for those who want to play
.
Google Translate's shit translation of the description:
"Hana to Yume" appeared in the popular comic adventure game. Only those who are admitted with a super power "Alice Gakuen Alice" incite set in a mysterious incident. The game improves the ability to learn in mini mode "class" can go to various places of the school she and wide mode "walk" to chat with your friends meet at various locations and classroom "part conversation." consists of three modes. Gakuen Alice Alice capability class "star" that determines the ranking. To enjoy a rich campus life, luck, "3 stars (triple)," aim at."
----------------------------------------------------------------------------------------------
Start Menu
NEW GAME.
Name screen
: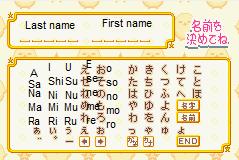 (was too lazy to translate the rest of the kana. Just use a translator or something for your name e-e)
Appearance screen
:
Hair Type: Bob --> Long --> Short --> Pigtails
Eyes: Normal --> Energetic --> Cool
Hair Color: Brown --> Black --> Yellow
Confirmation Screen
BEGINNING OF GAME
Narumi talks for like a long time then you come to your first choice: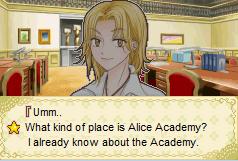 (This is a VERY rough guess as to what the choices are saying. There were a few kanji I didnt know. Im about 80% sure that this is accurate.)
Choose either choice. Doesent really matter. So you go to the classroom..Narumi tells you to introduce yourself, which brings you to your 2nd choice:
Choose either one >-> Then you have a choice of who you wanna talk to. This isnt important so I wont screenie it (plus Idk what it says >->) If you press the first option, then the first option you talk to Iinchou, and if you press the first option, then the second option, you talk to Hotaru.
. Then the bell rings, and Mikan comes up and talks to you. Then you have another option, which Im not entirely sure of.
First Option
: Whats an Alice?(???)
Second Option
: I still don't know what my Alice is..(Im pretty sure of this)
Blah blah blah blah..another option - I have no fucking clue. Pick either one. Blah blah..OHAI MISAKI + TSUBASA. Then Noda-sensei...Another non-important option:
First Option
: I'm [name]!!
Second Option
: I'm [name]. Nice to meet you.
Blah blah..YES I KNOW IDK WHAT MY ALICE IS..BAWWW!!! Blah blah..Another option comes up - Wanna try the roulette? Press the second option. BLAH BLAH BLAH STFU ALREADY..ROULETTE TIMEEE!!!! Ready..GO!! Just press A >->. EVENT. BLAH BLAH. HI HOTARU. NON-IMPORTANT OPTION TIME:
First Option
: Hotaru-chan...? (She's like "W/e fuck you >->")
Second Option
: P..Pleased to meet you. (K. Am Hotaru. Bye.)
MOAR TALKING. PLEASE STFU..IM BEGGING YOU -.-. ANOTHER OPTION.
FIRST OPTION MAKES HER HAPPY. SECOND MAKES MIKAN SAD.
HI IINCHOU. HI RUKA. NAAAATSUME!!!! *DROOLS* Blah blah..Another option. Fuck it, this shit isnt important right now. Just press w/e the fuck you want. HI NARUMI-SENSEI. He asks how you're doing. I feel like Im slacking so I'll translate this un-important option:
Blah Blah. He takes you to the dorm and shows you the robot-thing. CHOICE: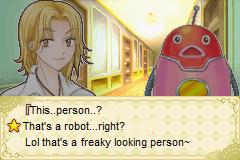 If you do the 2nd option: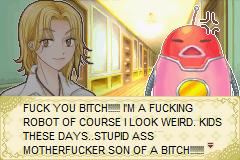 (Sorry...coulden't resist
)